Rates and booking



* You can find us at Booking.com and kortverblijf.nl but you can also book your stay with us directly, which will be a cheaper option ;-) .
In the table below you will find our rates for 2020.
They include breakfast, private dining room, private bathroom (with toilet, washbasin and shower), clean sheets, duvet en pillows, towels, cleaning of the rooms and City Tax (2020: € 1,33).

* RATES 2023; 1 or 2 personen
* We offer reduced rates for children.

*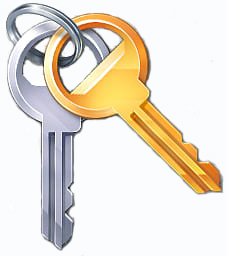 During your stay with us you will have your own set of keys. Please keep in mind that we will ask you to pay a deposit of € 50,00 as security money for this set of keys.
This is also the case if you stay with us for just one night. When the keys are returned and nothing seems to have been broken we will refund the money at your departure.

* You can book the room through earlier menstioned websites or direct by email or by telephone. We prefer an email so we will be able to send you a confirmation of your booking.
Cancelations are only accepted when in writing.

* Identification is required before we can check you in (driving licence, passport or ID card).

Bookings:
* When you book our B&B we will need the following information:
Name, address and telephone number (preferably a mobile number), time of arrival, duration of your stay and the number of persons that will stay with us.
When booking for two persons we would like to know if you prefer a double-bedded room or a twin-bedded room.
If circumstances force you to cancel your booking, please inform us as soon as possible.





* Because of the corona measures you can also stay with us contact-free. Please indicate this clearly when booking.

Check-in is possible from 4-9 PM; check-out is possible until 10 AM, unless agreed differently.
If you arrive earlier, it is possible to leave your luggage with us. Please let us know the time of arrival. During special events in Julianadorp or Den Helder we may use different check-in and check-out times.

* You are supposed to pay the unpaid amount in cash or with pin upfront, or on the day of arrival.
Unfortunately we can not offer accommodation for which we have to send you an invoice and get paid later.

Languages:
* We speak excellent Dutch, our English is good, our German is reasonable.





* Pets are only allowed after we agreed to it.
You must meet some criteria:
- the bedroom, dining room and bathroom are located on the first floor. If your pet cannot walk up / down the stairs (see photo), you will have to be able to carry it yourself;
- your pet must be clean and treated against pests (flea, tick, worms) well in advance;
- your pet may not be in heat during your stay with us;
- your pet must be well-trained (be house-trained, does not drool or gnaw on beds or chairs, or howl/bark in such a way that neighbours will be bothered, etc);
If you can comply with this, your pet is also welcome with us. We have a height-adjustable food / water bowl and a plastic bed available.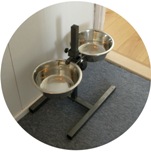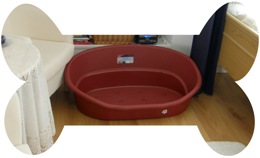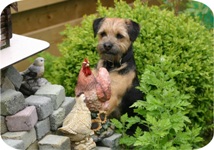 If your dog has become dirty, there is a special dog laundry room at the Strandslag bungalow park in Julianadorp and at Tank & Was Service Den Helder where you can wash your dog yourself.